Lime Crime EYESHADOW HELPER Waterproof Eyeshadow Primer Review.
Hello all you lovely ladies! I bought this Eyeshaow
Helper Primer, and I feel that I just have to review on it. So here we are.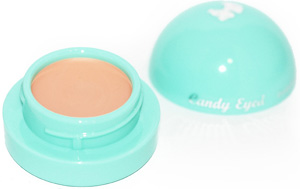 DESCRIPTION: According to Lime Crime:
Formulated to withstand heat,
sweat and even the oiliest of eyelids, this waterproof eyelid primer is
guaranteed to keep your eyeshadow ON no matter what!
Intensifies color
Prevents creasing for up 24 hrs
Makes your eyeshadow water-proof
Comes off with waterproof makeup remover or lotion
My opinion on this product:
I just had to check  it, it does sound really promising, so I had
it on from 10AM to 11 PM.  My Eyeshadow
didn't even move. It did exactly as the seller said.
The Packaging is really cute, the size is perfect for any
makeup bag, and a little go a LONG way.
The texture, it is light, I didn't even feel it on, and it is neutral beige
color so doesn't show. You
only need a tiny bit, and it goes on so easily! The almost sticky texture
allows the eyeshadows to go on super pigmented, but is still easy to blend.
It's a good solution for any weather, especially our Winnipeg ups and downs.
Hope It helped you.
Here you can find it:
http://www.limecrimemakeup.com/products/EYESHADOW-HELPER-waterproof-eyeshadow-primer.html