Spring-Summer MakeUp Trends 2012
With the new season coming in the fashion world, we all want to know about fashion trends in make-up spring summer 2012 – the eyes, lips, eyebrows, eyelashes, etc. on the list. It's timeless natural and smoky make-up Spring Summer 2012, super bright, juicy, berry shades for lips, pastels and metallic for the eyes, eyebrows and other trends spring-summer makeup.
Skin
Tanned beauties on the runway is rarity, but many of the old make-up artists complemented with bright rouge, distinguishing apples of the cheeks. One of the main tasks for such a make-up, is to choose the right foundation. Generally more suitable for summer and persistent fluids and try to fit color tone to tone of the skin or a little lighter.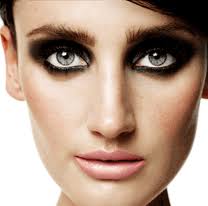 Eyes
For the eyes are the most fashionable version of the pastel shade of flower colors (mint, lavender, turquoise, rose, buttercup, bluebell), and semi-sparkling silver and gold a lot of shimmer.
Smoky eyes
This spring don't be afraid to overdo it with black shadows. In a fashion full of smoky make-up. For a truly rock girl in the soul who are not afraid, from a lot of black pencil, and black shades – even more!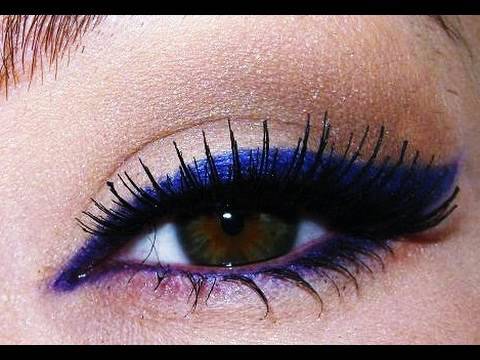 Colored Eyeliner
Choose your eyeliner the most original and vivid color and bold liners Draw them. Brown, green, gold, red, orange, yellow, blue, purple, turquoise – in the new season can contour your eyes any color.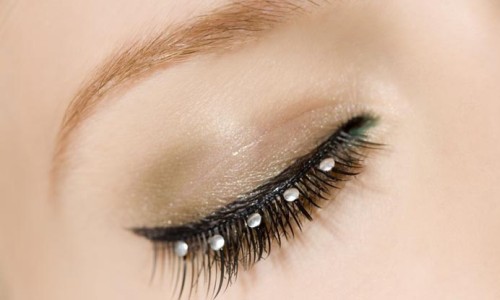 Eyelashes
There is a lot of fake eyelashes in, so go crazy and have fun with fake eyelash.
The big eyebrows
You cannot really call this a new trend – eyebrow-strings have long been out of fashion, so that we are accustomed to the normal width of the initially brow. This spring, designers are advised us strongly contour our eyebrows, and in winter make them lighter them again.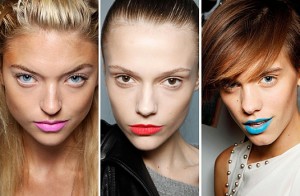 Lips
Lip Make-up in the spring summer 2012 season, bright and colorful. Fruit and berry-candy hues – tangerine, pink gum color, bright-and dark-red, fuchsia, coral and carrot blend perfectly with the matte texture of lipstick and do not require too noticeable eye makeup.